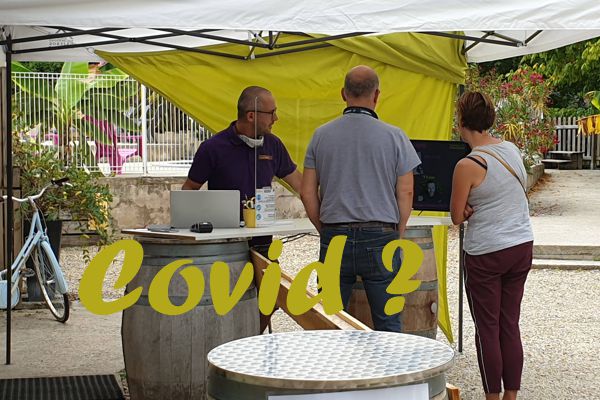 Covid-19
The commitments of Camping Du Vieux Chateau in regard to Covid-19. "Get away from the crowd, without isolating yourself..."
The current pandemic has forced us to adapt our operation, to innovate, often to take good new reflexes.
In 2020, we adopted the health protocol proposed by the French campsites federation. Based on this experience, here are our commitments and obligations for 2021.
Digital Green Certificate
21 July 2021. We confirm that our campsite, like all campsites and other leisure areas, is subject to the "Sanitary Pass".
Thus, from August 1st, this document will be required
- for all adults (> 18 years old),
- on arrival at the campsite, at the beginning of your stay only,
- whatever the length of your stay
Once your Sanitary Pass has been checked on arrival, you will have unlimited access to all the campsite's facilities, always in compliance with the usual sanitary protocols.
For customers already staying at the campsite on the previous days, it will be requested by August 1st at the latest.
In concrete terms.
The "Health Pass" can be presented in 3 ways:
- A complete vaccination scheme including the 7-day post-injection delay
- An RT-PCR or antigenic test less than 72 hours old (time of sampling) performed by a health professional (self-tests are not valid)
- A certificate of recovery from Covid19 dated between 11 days and 6 months.
More information here:
https://www.gouvernement.fr/info-coronavirus/pass-sanitaire
Cancellation Insurance
In order to make sure that your reservations for 2021 are safe, we are exceptionally changing our general terms and conditions of sale. Here are the most important points.
- Extension of the cancellation insurance to individual cases of covid
- Refund in case of administrative closure of the campsite
- All the measures can be consulted by clicking on this link
80% maximum occupancy !
This is one of our strongest commitments. When you come to Camping Du Vieux Chateau you are CERTAIN that you are not in a high density area. On the one hand, our human-sized campsite offers you large pitches of more than 100m², but above all, we commit ourselves to not overfilling more than 80% of our pitches during the high season. This will allow a greater fluidity, especially in the sanitary areas but also around the aquatic area and the reception and bar/snack area.
Outdoor reception
Sometimes, we also set up our reception on the outside. This allows us a communication respecting the physical distance but keeping the smile and the chance to welcome you in serenity.
Barrier gestures
At all public places (sanitary facilities, reception, garbage area, swimming pool, playground...) we have put at your disposal hydro-alcoholic solution dispensers.
(As of March 31, 2021) In our region, wearing a mask is only mandatory in enclosed areas. It is therefore required to wear in the reception room and when entering the sanitary area. No need to wear it on the campsite if you respect the physical distance.
Open pool

The chlorine in the swimming pool kills naturally the coronavirus, the risk of contamination in the water of an open swimming pool is then almost null. However, in order to respect the physical distance, the protocol imposes a space of 4m² per person in the aquatic space. This density is regularly checked and will be limited by our commitment of 80% maximum occupancy of the pitches.
In addition, we have temporarily replaced the sunbeds with resin armchairs that are easier to disinfect. Their location is clearly indicated on the beach floor.
Bar and snack, to go
In 2020 we experimented with a new way of serving our bar and snack. By ordering "through the window", you can be served as well and quickly as when ordering at the counter. In 2021, we will repeat this experiment with a snack menu adapted to this type of service.