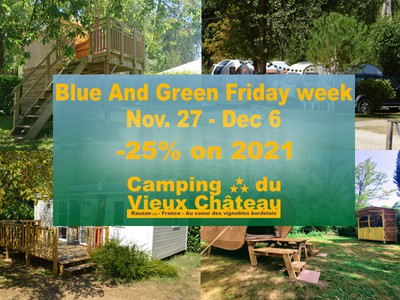 Blue and Green Friday week
Enough Black-Friday ? And yet, we need you! Rather than an "object", offer yourself (or simply offer) an experience. Take advantage of our week of promotions for your next green holidays. From Friday 27th November to Sunday 6th December, 25%(*) immediate discount on your booking for a stay in the 2021 season (between 1st April and 15th October). Book, on our website, the "Blue & Green Friday" offer will be automatically proposed to you. It's easy!
PS: and if you have any questions about our conditions for 2021 in the health context, please go here.
(*)25% discount on the basic tariff (excluding options, taxes and booking fees)