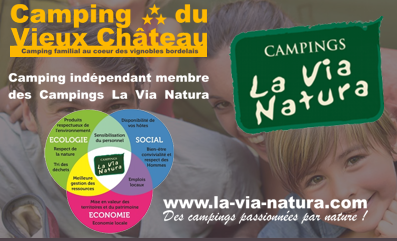 Our campsite joins LA VIA NATURA
Camping du Vieux Château becomes a member of the association of independent campsites La Via Natura
Since April 2019, Camping du Vieux Château has been a member of Campings La Via Natura.
As a result of our strong desire to offer you holiday stays in a calm, relaxing, green and responsible environment, we wanted to get even more involved with our membership of the association La Via Natura.
La Via Natura is an association of 19 independent campsites, from the north to the south of France, which have in common their commitment to conservation and promotion of our environmental and natural heritage; each site is dedicated to generating a spirit of respect, quality and amenity . We are campsites on a human scale, in privileged sites, where respect for man and respect for nature are the basis of relationships, where the owners share with you their diverse and surprising passions about their region.
All La Via Natura campsites are involved in a continuous improvement process for a reduced and beneficial impact on the environment and to continue to improve our quality of life so that your stay is an unforgettable experience.
More information here : www.la-via-natura.com/en