Pélagie and Thom, who are we?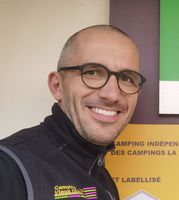 Thom - "I have worked for 13 years in IT systems in France and worldwide in companies with a high level of quality and certifications. There I developed my skills in the English language and acquired a rigorous work ethic as well as a strong culture of quality at the service of clients.
At the same time, I have practised entertainment with children, evening animation and outdoor sports such as running, which I still do a lot when the camping season gives me the time".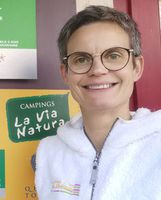 Pélagie - "Since my commercial studies, I have always been in close contact with customers, mainly in the area of banking. After more than 13 years and the birth of our 3 daughters, I wanted to give a new meaning to my relationship with people, closer and more open to our natural and societal environment. This pleasure in welcoming and advising people is now reflected in my personality and the way I work at the campsite.
Always active, I am very involved in professional, town and tourist associations as well as sports activities"
Some key dates and events