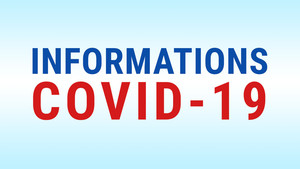 COVID19 - News
Info for your 2021 bookings
11/21/2020
- In order to reassure you for your bookings for 2021, we are exceptionally making changes to our general terms and conditions of sale. Here is the most important point:
Exceptionally for 2021 stays and for customers who have subscribed to a Cancellation Insurance. Provided that the payment deadlines for the stay have been respected and under the condition of a cancellation more than 3 days before arrival, not covered by the Cancellation Insurance (proof to be provided), for any sum paid (excluding the insurance amount) not refunded by article 2.3, a credit note valid until the end of the 2022 season will be issued.
These new measures allow you not to lose your money and allow us to survive this exceptional event. Looking forward to welcoming you!
10/19/2020
- The 2020 season is now over. Our campsite has been recognised for the quality of its services adapted to the particular sanitary context. Our reception moved outside has been a very important point to welcome you in a serene atmosphere. All the criteria of the Hotellerie de Plein Air's sanitary protocol have been applied and everyone has been able to enjoy their holidays to the full. We have learned a lot and are ready to renew these procedures for 2021 if necessary.
05/28/2020
- The French government announced today the possibility of campsites opening from June 2nd. So, from next Tuesday we will be pleased to welcome you to our campsite with all the measures recommended by the sanitary protocol of the "Fédération de l'Hotellerie de Plein Air" (on the swimming pool, sanitary facilities, reception, bar, mini mart...). Our sanitary protocol will be communicated to you exhaustively on simple request.
05/08/2020
- Despite the beginning of the deconfinement announced in France from 11 May, campsites are not officially allowed to open. The government should not be able to give us any information before the end of the month. To be continued...
04/14/2020
- Recent government announcements extend the confinement of the population at least until May 11. Therefore, we are not in a position to welcome our clients before that date or until further information is received.
03/16/2020
- In view of world health events, France has decided to confine the population, ban gatherings and close non-essential businesses. Campsites are affected by this compulsory closure. Today we can't hold the opening of our campsite on April 1st as planned. Current information indicates a possibility of opening from April 15th. We will keep you informed on this news feed. In the meantime, we continue to actively prepare and look forward to seeing you.