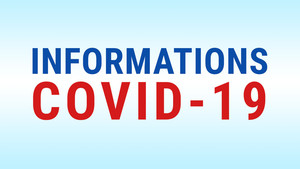 COVID19 - News
05/28/2020
- The French government announced today the possibility of campsites opening from June 2nd. So, from next Tuesday we will be pleased to welcome you to our campsite with all the measures recommended by the sanitary protocol of the "Fédération de l'Hotellerie de Plein Air" (on the swimming pool, sanitary facilities, reception, bar, mini mart...). Our sanitary protocol will be communicated to you exhaustively on simple request.
05/08/2020
- Despite the beginning of the deconfinement announced in France from 11 May, campsites are not officially allowed to open. The government should not be able to give us any information before the end of the month. To be continued...
04/14/2020
- Recent government announcements extend the confinement of the population at least until May 11. Therefore, we are not in a position to welcome our clients before that date or until further information is received.
03/16/2020
- In view of world health events, France has decided to confine the population, ban gatherings and close non-essential businesses. Campsites are affected by this compulsory closure. Today we can't hold the opening of our campsite on April 1st as planned. Current information indicates a possibility of opening from April 15th. We will keep you informed on this news feed. In the meantime, we continue to actively prepare and look forward to seeing you.